During my Summer in the Italian Dolomites, I spent 6 days a week working in a chalet as a chef. I was cooking for 30-35 people a day and working a fair few hours a day, starting at 7:00 for breakfast taking a break at about 11 am to start work again at about 17:00 before finally finishing for the day at about 22:00. This was a pretty good set routine, but was quite tiring with the long split shift every day and making the most out of my time in the Dolomites meant that I wanted to experience and do as much as I possibly could during every free afternoon and every single Day off. Having never experienced being in any mountains before and being terrified of heights I had sort of set myself the challenge of trying to reach at least a few summits, try out the Via Ferrata that I had heard so much about before we travelled to Italy and try to document my summer experiences with photos taking my camera everywhere I possibly could. Now I have sort of set the stage as it were I will tell you about my experience of Civetta, which according to some sources the Fifth highest peak in the Dolomites at 3220m.
It was over breakfast on a Monday morning that some of my colleagues (walk organisers) were discussing climbing Mont Civetta on their day off on Wednesday, my ears perked up, thinking I've now climbed a couple of peaks, done a few Via Ferrata, how hard could Mont Civetta possibly be? Over the discussions I discovered a lot of very fit people that we knew and worked with us had done it and taken around 10-12 hours, we were thinking it could take us longer, a lot longer. The weather looked good, and transport was sorted, we decided that we would try a slightly different starting point on the Alleghe side of Civetta rather than at Pecol like the other groups that we knew had done it before us. The thinking was that we didn't want to take the van up a slightly dodgy service track like one group had done before and that it would give us a slightly shorter walk in albeit with a little more ascent. Departure time was fixed to be at 5:00 am, one hour before dawn so that we could drive park up at our departure location and start the trek into the Via Ferrata at dawn and give ourselves the best possible chance of completing the route before night.
5:00 am Wednesday morning soon rolled around, and we set off, towards Alleghe, parking at a car park in Pian de Pezze, at around 1450m in height we thought it should give us about 1800m of ascent to complete which would make it a big mountain day but an achievable big mountain day. We were about 2 hours early for the ski lift so set off on a steep track towards Rifugio Coldai, following Path 4, and the signs for sentiero n.4 per esperti. Following the track we through woods and steep open grass sections we eventually came to a section which gave us a little taste of what we had let ourselves in for, a steep gully that needed some easy scrambling to ascend, with occasionally a few very short sections of cabling. Throughout this entire part of the ascent, there were the most stunning views of Lake Alleghe below us as the sun was still rising. We eventually came up towards the base of Civetta's big wall, which was the first time the realisation of what we still had to climb actually set in for me, it was utterly awe-inspiring. Lake Coldai at the base of the big wall was beautiful and enticing, although it was only about 9:00 am at this point it was already starting to get hot and I was ready for a dip to cool off. However, we continued to follow the path around the base of Civetta's big wall where we were met with the gorgeous view of Rifugio Coldai with mountains stretching as far as the eye could see into the distance. At about 2135m We thought that we had bitten off a good chunk of the ascent and took a good 10-minute breakfast stop and enjoyed the views.
From this point we joined path 557, skirting along the base of the Civetta wall on the opposite side to Alleghe, running along a few minor scree slopes with a little scrambling and a little bit of cabling in places it was an easy 1.5 hour hike to the fork which marked the start of the via ferrata alleghesi. The turning was to the right and marked by bright red paint as with quite a few via ferrata's it would be fairly easy to miss the path to its start if you aren't looking for it. From this point it was perhaps 500-750m to the start of the via ferrata, but whilst hiking along path 557 one gets a really good impression of how much further and higher the route is going to take you, the length of the via ferrata is about 1000m of cabling, most of it very steep.
Around this point I thought it best to put my camera away for a little while, for me it was my first Grade 4 Via Ferrata and I was a little apprehensive about climbing whilst trying to take pictures. We donned our harnesses attached our VF tails and started up the Via Ferrata, the initial part was really grippy limestone but was steep scrambling with no protection, but as soon as we reached the cabling there were ladders and stemples making the start of the climb very easy. It was the same story throughout the entire route of the Via Ferrata, very good protection and well-placed stemples at any point where the climbing became difficult. It wasn't long before we reached the first of the ledges that I had been told about and was dreading, where the cabling and hence protection runs out and you are left on a long ledge (albeit about a metre wide so hardly precarious) with a lot of exposure (about a 100 metre drop just off to the side!) before you reach the next section of cabling. I have to say that, to begin with, they weren't quite as scary as I feared they would be.
The Crux of the route was a chimney which was a bit of a tight squeeze (especially carrying my rather oversized daysack!) but was extremely well protected with well-placed stemples to aid your climbing, although the first one that I put my hand on was literally hanging out of the rock, when pushed back in took my weight and that of everyone else with no problem. There was one moment that my rucksack got caught on the rock behind me in the chimney as I was climbing and it felt like it was going to pull me off the rock with a pretty big fall, thankfully Greg managed to free me from underneath. Once we started to near the shoulder of Civetta so had basically reached the ridgeline the gradient of the climbing suddenly got a lot easier and a lot less steep. However, it was from here on that some of the more thought-provoking and perhaps scary parts begin.
This first of these is a ledge over which the protection completely stops and instead of having the rock to one side of you there were sheer drops of 300m to your left and about 600m to your right along this little ledge, leaving one completely exposed. It was very much a moment where you can't turn back and go down (at least not easily) so one just has to swallow and push on. After a little more traversing and climbing on the cable the first of a few relatively short scrambling sections start. With very loose gravel underfoot and some bigger loose boulders, there is no cabled protection and it seems like there is a rather large drop if one were to slip and fall. I found that after I started moving on these scrambling sections it was ok.
Nearly at the top (though we didn't know it was at the time) after another scrambling section we came to the last section of cable on the way up, leading one over a large steeply angled slab, which as one is traversing offers the most amazing views down into Alleghe and gave me possibly the largest sense of being exposed during the entire climb. We soon passed over the slab and after a short scramble we were at the summit, we had made it! It was about 13:00 in the afternoon and we were more than ready for lunch. The summit of Civetta has to rank up there as one of my favourite lunch spots in the Dolomites. I had heard from other people that they had been in a cloud when they summited, we had the most magnificent 360 degree beautifully clear views with no cloud in sight. I found Civetta gave me both a sense of scale and achievement of epic proportions. Realising that we were now halfway and had to get back to the van before dark (or at least off the mountain and on an easy service track) we started to tackle the descent.
From Rifugio Torrani the route down is using the Via Normale. Do not be fooled by its name, this is not a trivial down climb but is well protected. The path is pretty clear, well-marked and defined, as it starts to get steeper you will see the cabling start. It would be wise to use your tails especially during the steeper more exposed parts, it has to be ranked at least a 2C grade. From the base of the Via Normale, there is another scree field which although a little tricky it is not far from there before you get to hiking trails again and join back onto path 557. From here we hiked back to Rifugio Coldai, and because the sun was going down pretty quickly by then we followed the service tracks down from there to where we had parked the car at Pian de Pezze. We eventually got back to the van at 21:00. In short, Civetta was not an easy day out but is certainly achievable in one day though I feel it would have been more enjoyable to have split it into 2 days with a stay at Rifugio Torrani close to the summit.
Summary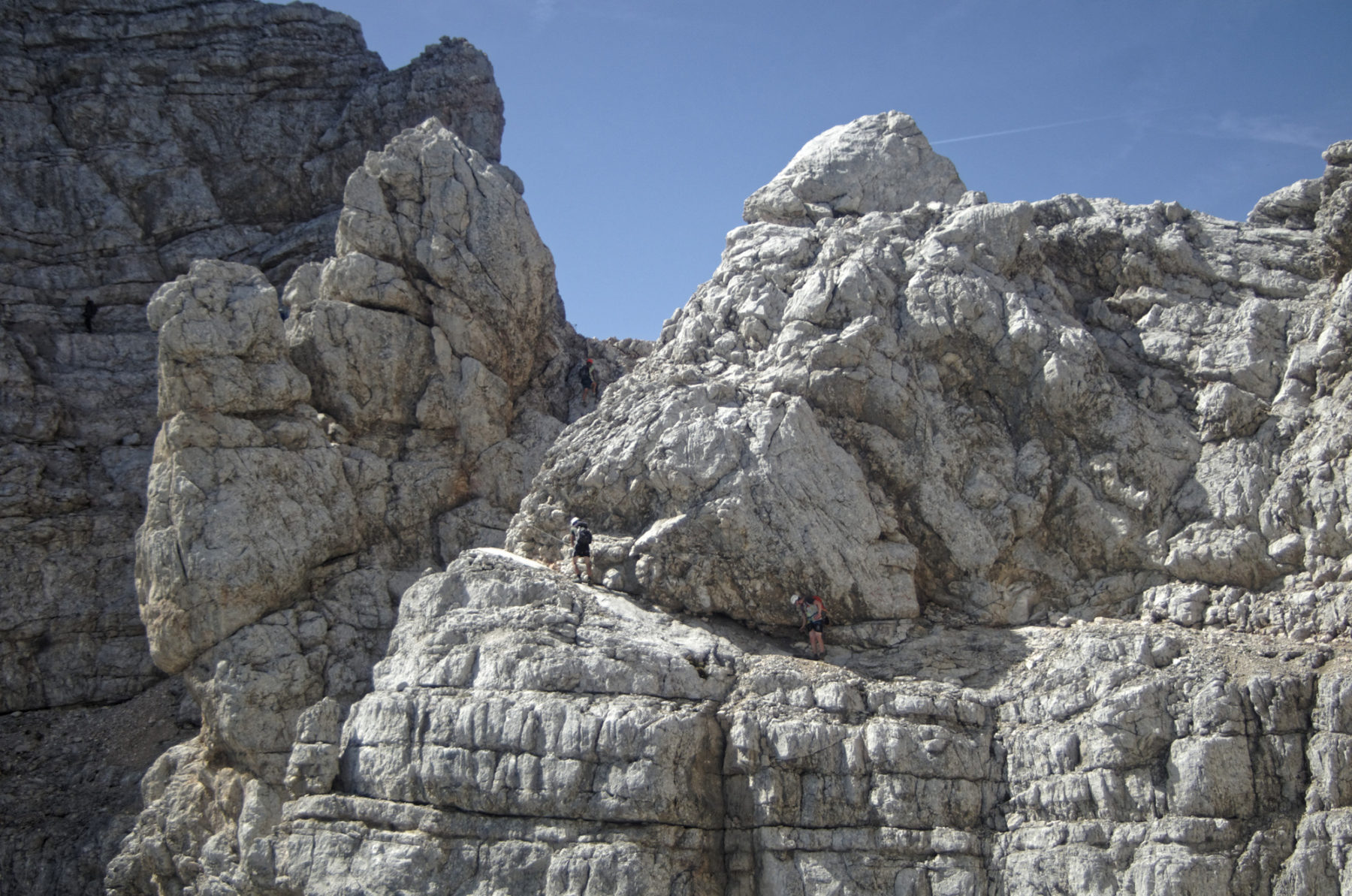 Article Name
Description
My adventure climbing Monte Civetta on the VIa Ferrata Alleghesi in the Beautiful Italian Dolomites.
Author
Publisher Name
Publisher Logo